SolipsAR is an Augmented Reality company that  that can help you express your brand in the worlds newest, most innovative medium ever.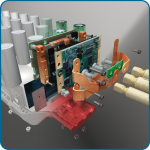 We are rethinking the man-machine interface AR makes possible, in both handsets and wearables. We are a close companion to bring your brand or services into the now, and tomorrow.
"To create value using augmented reality technology by mutual innovation with our clients and partners."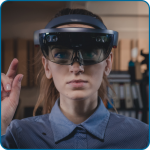 Transparent design and consulting services by experienced designers and engineers hyper-focused on the AR possibilities.  Your AR vision brought to life. We can work with you on the idea, and provide the solution.
How can AR change and benefit my Business?
It's inevitable. It will not only change your business, it's about to change your life.
AR is being used to engage and illustrate knowledge in exciting new ways.
Educational applications of AR are already here.  Textbooks, flashcards and other educational reading material may contain embedded "markers" or triggers that, when scanned by an AR device, produced supplementary information to the student rendered in a multimedia format. This makes AR a good alternative method for presenting information and Multimedia Learning Theory can be applied.
Did you think AR only impacts video games and novelty apps? It's selling so much more, in so many ways
Augmented Reality in the retail experience. More complex to build than the other industry examples shown, there's a real value-proposition for the consumer here that is a worthwhile trade-off if you've got the budget. Augmented reality is becoming more frequently used for online advertising.
AR is being used to engage consumers in ways you can't imagine!
Augmented Reality in marketing is used to integrate print and video through a unique user experience. . If you're looking for brand marketing ideas you will inevitably arrive at AR, as it's unavoidable and its already here. Essentially, printed marketing material can be designed with certain "trigger" images that, when scanned by an AR-enabled device, activate a video version of the promotional material. A major difference between augmented reality and straightforward image recognition is that one can overlay multiple media at the same time in the view screen. For example, social media share buttons, the in-page video even audio and 3D objects.
Leave your name and email below along with what you are looking for in the message box.