We are serious about creating the future at SolipsAR. Augmented Reality is a rare sort of modality that creates endless possibilities for implementation, but requires an unusual range of skills to accomplish. Our core group is represented on this page and much like the technologies in AR itself, is comprised of skills in Art & Design, 3D modeling, UX expertise, software architecture, as well as machine learning & computer vision.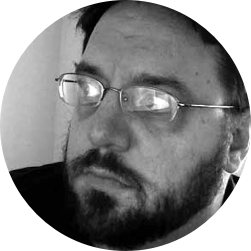 Our Chief Evangelist, a veteran of the software industry and self proclaimed "All Purpose Alpha Geek", Chris Mathias has experience with just about all areas of internet-related technology. In previous positions he has been Lead Architect on NFL Now, Director of Engineering at Capital One, SVP of Engineering at Cinsay, CTO at Viderian, and many others. His passion is being out in front of all latest tech and has been in front of NoSQL, Reactive systems, Microservices Architecture, Big Data, and Machine Learning. His most recent role was as a Data Scientist at Capital One, which he left to found SolipsAR.
Palmer Saylor III is a creative with wide and varied artistic disciplines which range from musician and writer to award-winning illustrator/ designer and sculptor.  His keen interest in technology is woven into his traditional approach to making art.  Soon after attending the San Francisco and Cleveland Institutes of Art, and earning a BFA from CCAD on a merit scholarship, Palmer worked as an Art Director and Creative Director for three niche production companies.  Palmer has conceived, designed, and created themed environments, including sets and props for the film, retail, and hospitality Industries.  He has worked directly with companies such as Disney, the NFL, PF CHang, and the New York New York casino.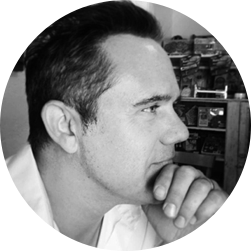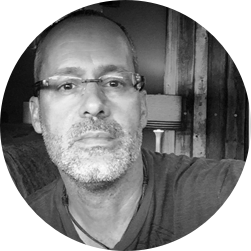 Frank Vitale is a veteran in the world of digital arts with a quarter century of experience ranging from desktop publishing to interactive game development, visual effects, motion graphics, app development, team building, art direction, UI/UX design and more.  He worked on movie titles such as "Titanic", "Dr. Doolittle", "Deep Rising", "Spawn" and "Jungle Book" as well as smaller independent films and television commercials for clients such as Nissan and MTV.  Armed with experience and personal continuing education Frank took on the task of sharing his knowledge and became a highly respected instructor for The Art Institute of Phoenix and Phoenix College.